Ever since I met my friend, Dale, he has talked about his family's property in the mountains, where we should all go to pick apples and make cider one fall. So last week, when I was on the train back from New York Comic Con and got an invitation to go to this family property and make cider, I didn't hesitate to commit. Meeting three of my friends from NC for a weekend of apple picking, cider making, campfires, and tasty beverages sounded like a relaxing way to recover.
So on Friday, I headed west, to a "hollow" in the Pennsylvania portion of the Appalachian Mountains. This is a lot like the hollers of West Virginia with which I'm pretty familiar, except these hollers survived on more than the coal industry, therefore are still have vibrant communities. I was warmly welcomed by Dale's family and had a great night of sleep before the day of harvesting and cider-making.
Now, I don't know if Dale every actually used the word "Orchard" when talking about his family's apple supply, but I had a mental picture of acres of apple trees, carefully pruned and surrounded by grassy areas that required lots of mowing. In hindsight, that was silly. This was family property that had apple trees mixed with hardwoods in forested areas. It was beautiful and private.
I could also swear that the word "Picking" was used in relation to apples, but there was no picking. These trees were overflowing with apples ready to fall off with a sturdy shake. The guys would climb up to a particular branch, we would lay a tarp out underneath, they would start shaking, and it would start raining apples. Thus began my realization that this weekend could be a little bit dangerous.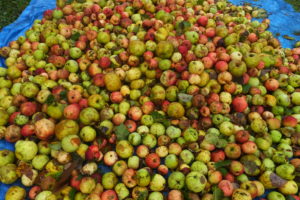 But collecting the apples was only the first step. We had to eat lunch, and collect more apples. I spotted a tree deep in woods, unreachable by the 4-wheeler, and only barely reachable by foot. But it was overflowing with apples, and we spent way too much time going after them. With a solid second haul, we headed to the cider press.
At Dale's grandfather's house, family members had started to gather to help with the cider-making portion of the day. From what I hear, it was a small crowd, but everybody had a role to play, and we got to work.
To start, the strongest of the bunch carried out the cider press. This press is over 100 years old, and made of solid iron. It was amazing.
So then, we get to work! The process was simple:
Somebody cleans the apples, spraying them down, moving them to a "rinse bucket" to a dry bucket, ready to be mashed.
Somebody feeds the apples into the hopper.
Two people turn the cranks, sending the apples through the hopper to be chopped.
The person feeding the apples into the hopper gets surprisingly overwhelmed with how hard it is to keep feeding the apples into the hopper fast enough to keep up with the apple chopping.
Because after the water from the bucket got fed into the hopper, the hopper-feeder couldn't dump bucketfuls of apples anymore. We didn't want watered-down cider, did we? No, we didn't.
Not that cranking was easy. Cranking was a tough job.
Once the apples were eaten by the chopping machine, the bucket was pushed forward to the masher.
A giant corkscrew moved a masher down on top of the apple bucket, and cider poured out the front.
We successfully remembered to put the pot in front of the press to catch the cider EVERY TIME. Go us.
The cider was poured over a cheesecloth, into a 5 gallon bucket, to strain out the seeds, chunks, and yellow jackets.
Our cider should come with a bee allergy warning.
Rinse and repeat.
I took a short video to see the cranking in action.

Dale estimated that we had about 12 gallons worth of apples, which would have been plenty for our needs. By the time it started to get dark, we had made about 12 gallons, and barely gotten through half of the apples. We decided to call it a day, and retreat to drinking cider, instead of making it.
Our friend John cooked some delicious venison burgers, and Leandi mixed some bourbon with our freshly foraged cider. It was all delicious. Then we built a campfire and enjoyed the ridiculously gorgeous full moon while we sipped on bourbon and cider.
Day two had less helpers, but we knew what we were doing and were able to get right to work. Rinse, load, crank, mash, pour, repeat. Rinse. Load. Crank. Pour…
At around 20 gallons of cider, we decided that maybe we didn't need any more cider. Everyone that had requested some had gotten their take, and we were tired of cranking, mashing, pouring, and getting stung by yellow jackets (which I avoided). So at around 22 gallons, we decided to give the rest of the apples back to the deer.
I brought a half-gallon back to New Jersey with me, and have some more going directly to my freezer. Some of the supply may be going to Bull City Ciderworks, to make a small-batch of just our product (it's possible that Dale won't be able to get it there in time, though). Some of this cider will definitely be made into warm apple pie, for future thanksgiving dinners or brunches. But overall, it was just fun to make!
Fin.