Where I am, in New Jersey, I can drive ten minutes and hop on a train to New York. With so much to see in New York, I forgot that I'm equally close to Philadelphia. But when I was home for Thanksgiving, one of my coworkers posted pictures of a weekend in Philly, and I realized that needed to make my way there. So one Sunday morning, I looked at the weather, realized it would be nice, and headed west.
Bonus points to Phildelphia: Getting there includes all of one dollar in tolls. My North Carolina EZ Pass still doesn't work for those tolls, though. All I want for Christmas is an EZ Pass that actually works on New Jersey Tolls (And a Pixel, see the pictures I took with my Christmas Pixel?).
Having listened to the entirety of the Hamilton Soundtrack for the first time recently, I had to start with a little bit of history.  I went to the Visitor's Center and asked for a path that started at the Liberty Bell, and ended at the Christmas Market where my coworker had posted pictures. The attendant quickly drew a path on the map that went two blocks in the other direction and handed me a menu for a cheesesteak.  Spoiler alert: I didn't eat any cheesesteaks.
I did go straight for our country's first piece of faulty infrastructure. Now that seeing the Liberty Bell can be checked off my list, I went to the main attraction: Independence Hall!
Evidently, Sundays in the off-season are the time to see our National landmarks. I was able to hop in on the next tour, and quickly see the birthplace of our nation, as well as George Washington's copy of the Constitution. I considered going to the gift shop to buy a few copies to randomly give to people, but I was hungry and I heard there were bratwursts at the German Market.
After Independence Hall, I looked at Facebook, where all of my friends sent recommendations for things to do in Philly. Particularly: Coordinate trips with my other friends, and eat at Reading Terminal. Whatever, folks. I had a plan to get to the Christmas Market and eat there!
So I started walking (In the right direction! Woo!), and walking, and getting more hungry, until I found a little historic marker for Reading Terminal. Maybe I'd check it out for a bite to eat.
I went inside the building at the sign, and found a giant empty convention center, straight from Icescapades.
After wandering around the building for a while, I realized I was supposed to be in the building behind this one. The one that was much more active, and most definitely the place where I was supposed to find food. SO MUCH FOOD. So many options. I honestly had no idea where to begin, and I was starving, so I almost went to my usual fallback in this situation: Either the Mediterranean option (mmm schawarma) or a hamburger. But since this was Philadelphia, I thought I would get in line for some ridiculous cheese-steak. I honestly didn't know what line I was in, and when I got to the end I just ended up with a plate of meat. I thought it was supposed to have sides (I'm never not-going to the Mediterranean place, again). I ate some of it, and moved on. There was a Christmas Market, and I wanted to get there!
So a few blocks later, I finally got to Philadelphia City Hall, in all it's festive glory!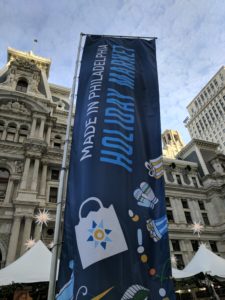 First, I was overwhelmed with the number of Moravian stars. They were everywhere and the first booth I walked up to was a star-seller that supposedly supplies the Old Salem Giftshop. Nothing says Christmas like a Moravian star.
Within the land of Moravian stars, there were carolers, ice skaters, a trombone band (Which sounded far better than I would have expected), and topiary reindeer.
Next to the ice skating was the iconic sign that I truly thought lived in NYC.
With the sun setting and my car parked back at the birthplace of America, I decided to walk on back and make my way to Jersey. But I'll definitely return to explore more of Philadelphia, or at least more of the Reading Terminal Market!